Category Archives:
About The Rockin' Z
Don't Get Mad
2002 – April 2013
The Rockin' Z Ranch is sad to announce the lose of a beloved stallion Don't Get Mad. Folded in 2002, Don't Get Mad was successful in gaining respect with his win of an Indiana Derby(G2), nearly 4/5 faster than Lookin At Lucky. He also set a new stakes record in the Northern Dancer BC S. (G3), and seven length winner of one-mile Derby Trial at Churchill Downs. He was quick enough to make it on the board in 9 of 13 starts, including the Kentucky Derby(G1) and Travers S. (G1).  A.P. INDY sire line, out of a multiple stakes-producing, half-sister to the dam of millionaire G1 SW STUDENT COUNCIL. Don't Get Mad will be missed.
Bosley the ranch dog! Dr. Z may own the ranch, and Joe might manage the day to day stuff. But the one who really is in charge, is Bosley! Ranch Dog #1…
Updated: Wednesday, September 7, 2011 9:15 AM
Published By Blood Horse.com: Tuesday, September 6, 2011 3:45 PM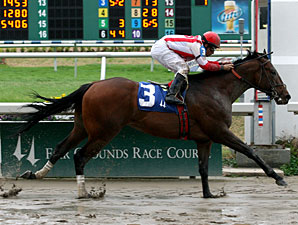 Photo: Hodges Photography
Populist Politics, Don't Get Mad's leading runner in 2011.
Grade II winner Don't Get Mad  , who finished fourth in the 2005 Kentucky Derby (gr. I), has been purchased by Dr. Robert Zoellner and Clark Brewster to stand in 2012 at Zoellner's Rockin' Z Ranch south of Tulsa, Okla., near Beggs. The 9-year-old son of Stephen Got Even   will stand for $2,000.
Read more ›
Don't Get Mad relocates to stand in Oklahoma
Posted: Tuesday, September 06, 2011 2:07 PM
Multiple graded stakes winner and second-crop sire Don't Get Mad has been sold and will relocate to stand the 2012 season at Rockin Z Ranch in Beggs, Oklahoma.The nine-year-old by Stephen Got Even out of the Jolie's Halo mare Class On Class will stand for $2,000 for the partnership of Dr. Robert Zoellner and Clark Brewster. Don't Get Mad, who was 38th on the North American freshman sire list in 2010, stood his first four seasons at Spendthrift Farm in Lexington and the 2011 season at Elite Thoroughbreds in Folsom, Louisiana.
Read more ›
2010 OKLAHOMA BRED CHAMPIONS
Horse of the Year
She's All In
(Include X Georgia OK) Owner: Robert H. Zoellner, Tulsa, OK
Read more ›
Open house held at Rockin Z Ranch
On January 23rd, the Rockin Z Ranch held an open house to showcase their three stallions, Omega Code, Fast Play and Service Stripe. A very good crowd was present at the Beggs, Oklahoma ranch which belongs to Dr. Robert Zoellner, O.D. He owns the stallions in partnership and the stallions were presented for viewing. A drawing for a free breeding to the stallion of choice was offered. There were also drawings for feed, shavings and other items. Attendees were fed hamburgers and hotdogs, with beverages.
Dr Zoellner, has two offices in the Tulsa area. He has been married for 25 years and has three children. Dr. "Z" as he is affectionately known to his friends became involved in the horse business about 10 years ago. He said that from an early age he loved horses and wanted to get involved with them. He purchased 2 two year olds at the Fasig Tipton sale at Lone Star Park, and raced them having moderate success.
Read more ›
Sunday, April 12, 2009
Visionary Cowboy: Dr. Z Loves His Pretty Little Horse Ranch
"This is my lifelong dream, owning a horse ranch," Zoellner said. "When I was growing up and people asked me what I wanted to be, I always said a cowboy."About 15 years ago, he decided to pursue that dream and started researching how to make it possible. Then he made the jump and hired a trainer and started claiming horses. Claiming is when all the horses in a race are for sale and anyone with a license can buy one. It's an easy way for a person to start owning horses.After several years of claiming, it was time to get into breeding. And for that, Zoellner needed a ranch.
"There was this ranch I'd see every time I drove on highway 75 and fell in love with it," he said.And, on Valentine's Day of 2006, he purchased the 200- acre ranch just south of Bixby. On average there are about 40 horses on the ranch at a time.
After a horse is born, the basic training starts right away. After about a year it's sent off to a training center to be broken in for racing.
"It's fun to win a race with a horse that you've bred," Zoellner said. "It's more fun to win a race with a horse that you've bred and raced its momma."
'Good old horses'
No matter when a horse is born, it turns 1 year old on Jan. 1, hence the term "yearling." Right now 12 yearlings are at the ranch — eight colts and four fillies.
"You hope you have a super star in the bunch," said Joe Fleming, ranch manager. "That's what we call the big horse."
Thoroughbred horses begin racing at about 2 years and often hit their peak at 4. Some horses race up until 10 years of age, Zoellner said.
"A lot of thoroughbreds become hunter-jumpers, fox hunters or pleasure horses after they retire. They're big athletes and, like a lot of people, they get away from the stress on the track and revert to being good old horses."
In addition to the business aspects of running the ranch, there's also the fun stuff, like naming your horses and playing with them. "If you turn your back on a horse, it's telling them you trust them," Zoellner said. "They can't stand it and they'll come over to you."
Fleming used to be Zoellner's trainer at the race track but now he is enjoying life on the ranch.
"The babies falling out of the mares, that's the most exciting part and the part I never got to see at the track," he said. "At the track, you only see horses that are 2 years and older. It's pretty exciting to be on this end of the business."
Nothing like your own
Zoellner has four horses racing in Hot Springs and 10 at Will Rogers Downs in Claremore. Each horse races about once a month.
The first horse that he raised and raced was Dancing Bright and he said the feeling of watching your own is incomparable.
"Nothing on Earth can compete with watching your horse, carrying your silks, go down the track and win a race. There's nothing like it, you have no idea," he said. "It's like watching your brother's kid win a football game and watching your kid win a football game. There's that extra something special when it's yours."
He said one of the reasons he decided to buy the ranch was the union of racetracks and casino gaming, or racinos.
"That injected some enthusiasm and money into the tracks," he said. "Whether you like it or not gambling has always been the backbone of horse racing. The purses pay us money to buy land and horses, feed and hay."
And racing horses made business sense.
"If I'm going to own a bunch of horses, how am I going to pay for it?" Zoellner said. "I love competition and I love to have fun in nature. It's a perfect blend of the two."Many people know Robert Zoellner as Dr. Z, the opto-metrist. What most people don't know is that he raises thoroughbred racing horses at his Rockin' Z Ranch.
Read more from this Tulsa World article at http://www.tulsaworld.com/scene/article.aspxsubjectid=38&articleid=20090412_38_D1_DRbrol547813&archive=yes